Overview
Peer pressure and lack of financial wisdom have forced Gen Z to spend excessively on their social lives. So Frich is here to turn personal finances into social finances and understand that money is inherently social, especially when you're young. Frich team reached out to me to help them bring this new venture idea to life in a mobile app design from initial prototypes to launch-ready phase. 

Some app features are protected under NDA so cannot be shared. 
Role

UI/UX Designer
Project Duration
Feb 2021 - Oct 2021
Project Type
iOS Mobile App Product Design, UX Journey, Content Design, Visual Design, Website Design
Team
CEO - Katrin Kaurov
CPO - Aleksandra Medina
Product Manager - Emily Von Linde
The idea of making personal finance social is to gamify the budgeting experience into challenges with friends, but we still want to keep the design professional and clear enough for users to trust and understand the saving concept methods. Challenges can be taking fewer Ubers, having fewer drinks outside, or eating out less every week. By allowing friends to set spending goals together and keep each other accountable through challenges, saving money will no longer be taboo but more transparent for this generation. 

The design process included creating user flows, user research analysis, wireframes, and visual design for prototypes. I had a prototype 1.0 to start with and I quickly jotted down all the feedback and iterations needed to make the user flow more clear. 
After analyzing the research and existing prototype, I recreated the user flow map to have a better picture of how we can organize each feature better in a clearer path from logging in. This also helped me ideate on how to design the onboarding process. 
Wireframes to Iteration Insights
Some of the insights and pain points that we found from multiple user testings included: 
• The vertical bar graphs are not clear to users that they represent their budget progress. So we tested out a variety of ways to visualize the budget progress better.  


• Users do not feel comfortable showing the exact amount of spending to everyone including friends. So I created a point system and scoreboard feature for friends to compare progress with points instead.


• Can users cheat the system by manually editing their transactions if they do not link their banks to track transactions? The design now included a notification pop-up if we detect the user editing the transactions repeatedly within a week. We are also working with developers to build a more secure system around this.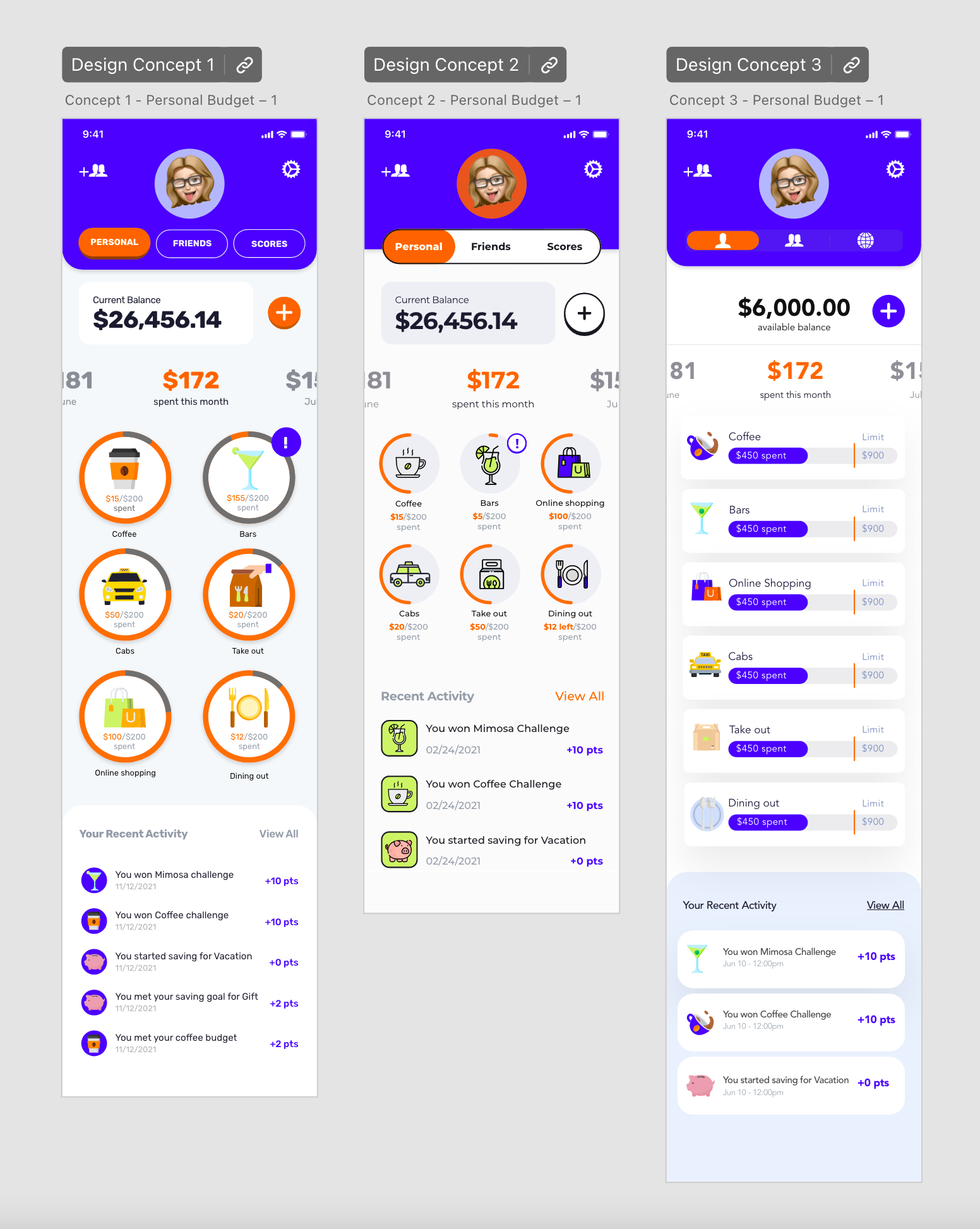 Here's a peek above at some features so far. I am only able the share partial details of the app process that is already launched. Please reach out to me to learn more about the design process and other challenges that we overcame.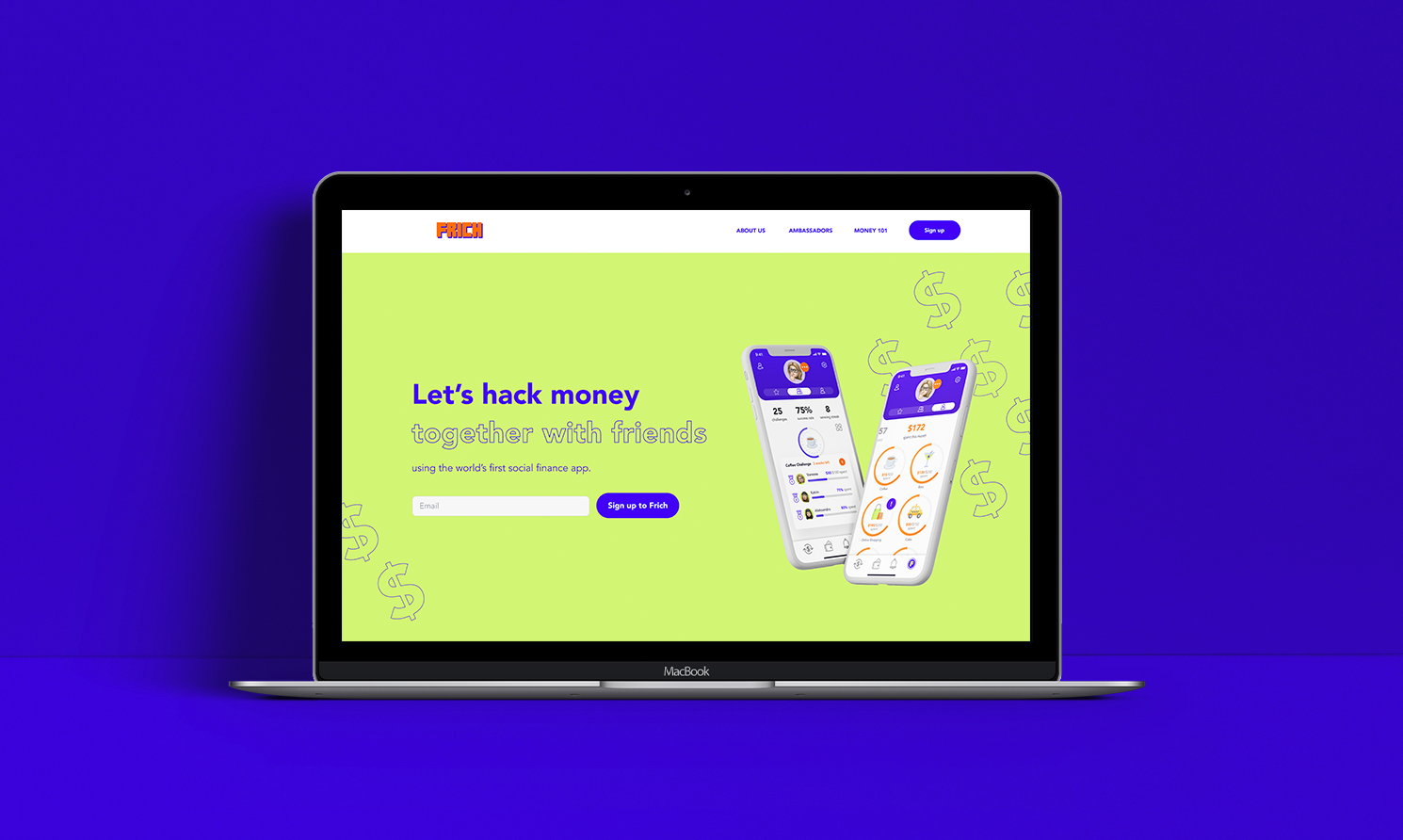 The website is redesigned to align Frich's branding across all platforms and promote the updated app features. Since I worked on the Frich app's new user flow and features, I worked on restructuring the page's read flow and content to help users clarify and understand what Frich's features are exactly. Since this app involves users linking their bank accounts to track transactions, we also want this website to look professional, safe, and trustworthy while still keeping the Gen Z energy of the brand. 
Frich is a unique brand with vibrant colors that attract the Gen-Z audience. The challenge was to leverage this youthful brand and create a design system that also balances with a professional and trustworthy tone as a fintech brand/app. 
Frich app has reached 10k+ downloads and holds a 4.5 avg rating since launch. My design user flow and system have provided a strong foundation for the new design team to take over and continue iteration.