Overview
Disney partnered up with the Keith Haring Foundation to create a series of fashion collections inspired by Keith Haring's Mickey Mouse artwork. A series of approved Haring's Mickey artwork is shared with my Disney Consumer Products Packaging team to create a brand system and share with multiple global licensees such as Coach, Uniqlo, Stance, and Medicom Toy for packaging their collections.
Product photography from:
Coach
, 
Uniqlo
, 
Stance
,
Be@rbrick
,
Swatch
Brand
Keith Haring Foundation, Disney
Licensees
Coach, Uniqlo, Stance, Maxbone, Be@rbrick, Swatch, and more
Role
Brand & Packaging Designer, Intern
Project Type
Brand & Packaging Design System
Team
Design Manger - Melissa Cassara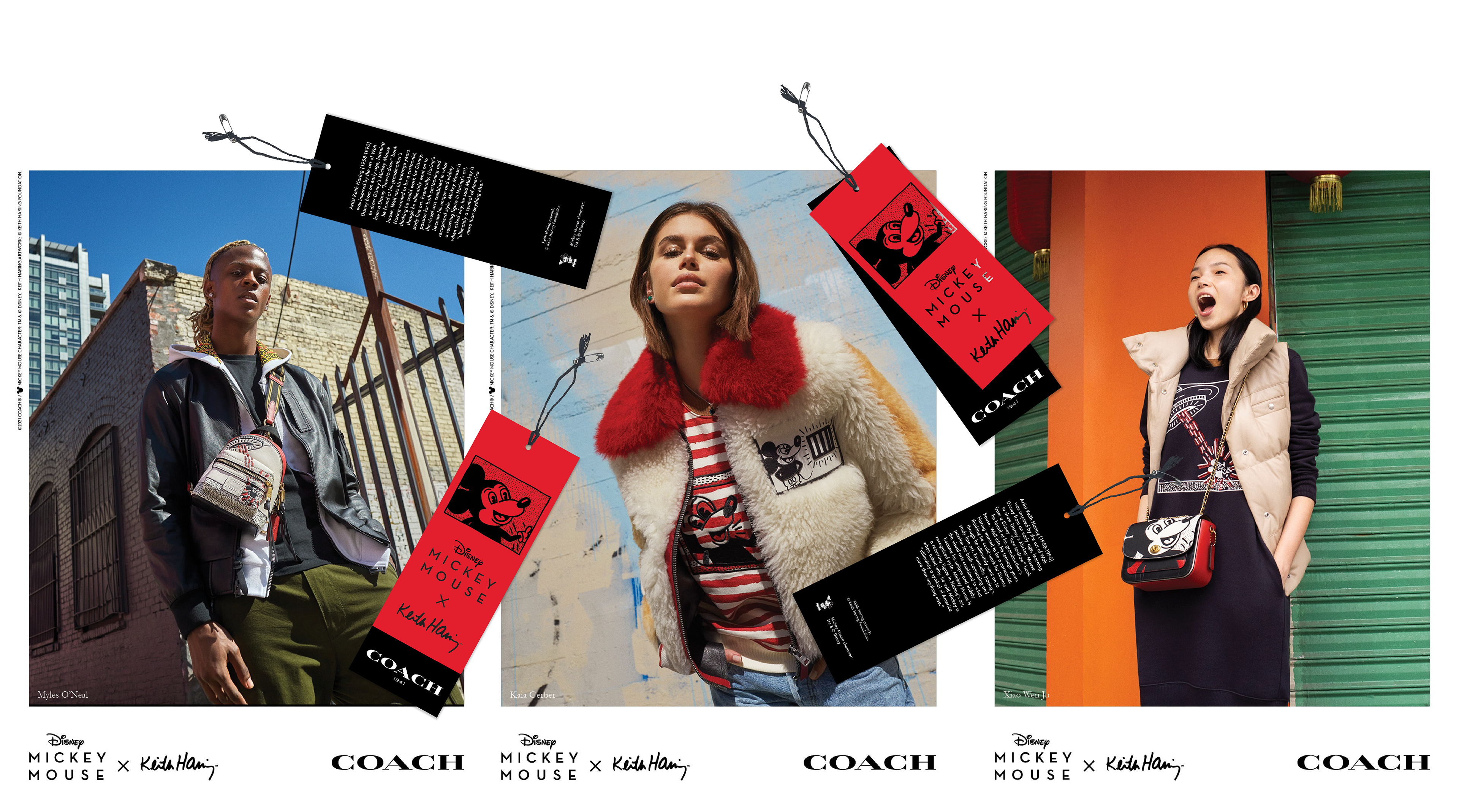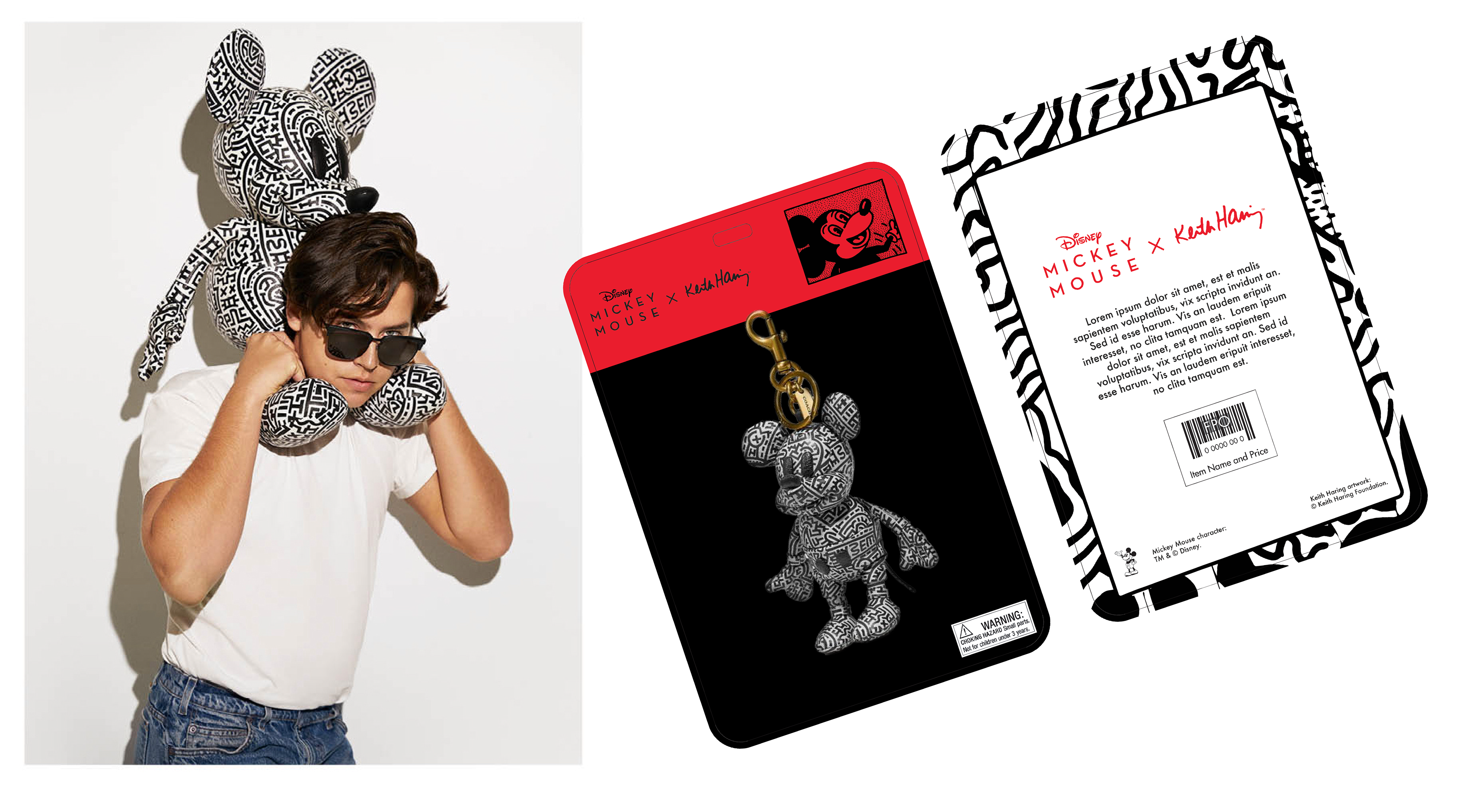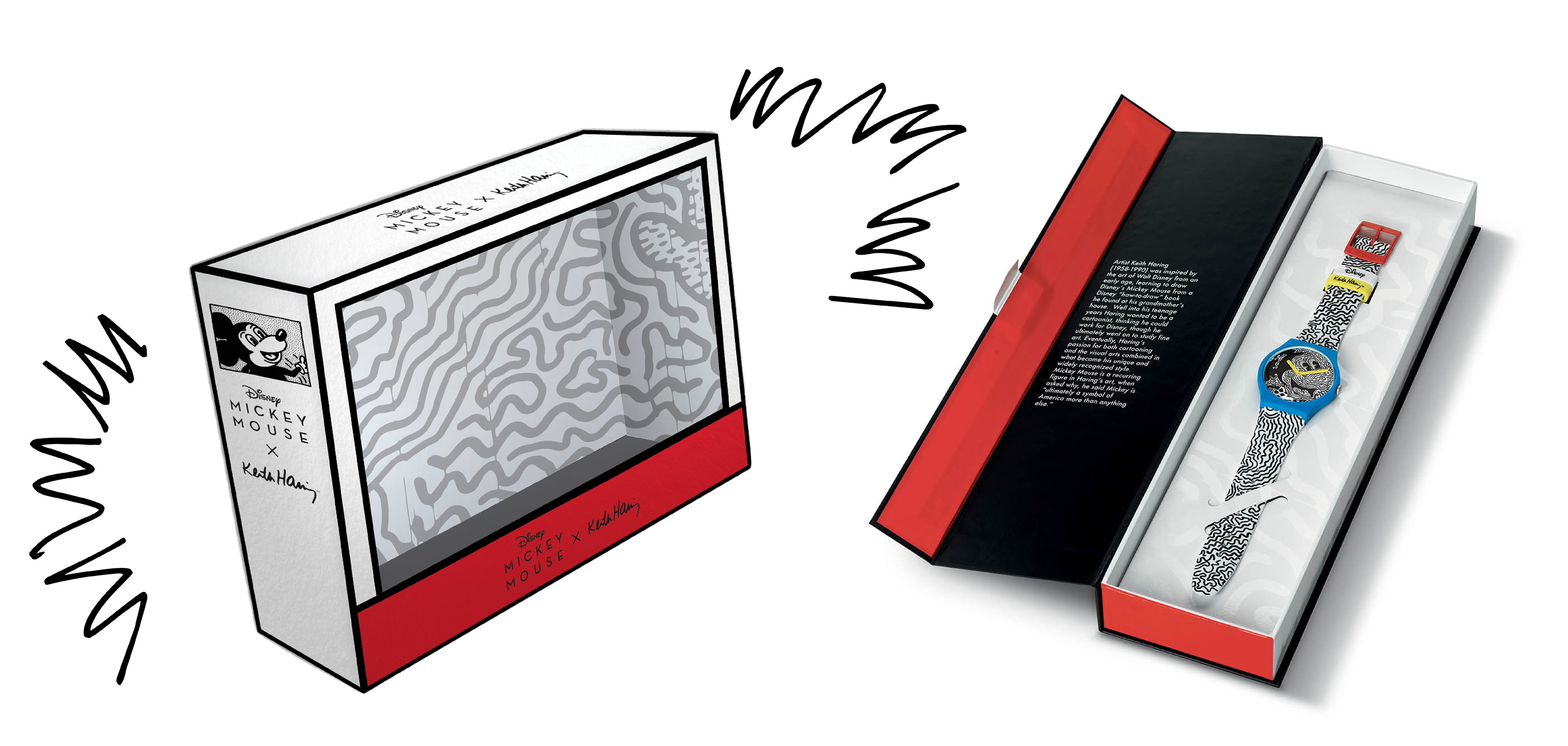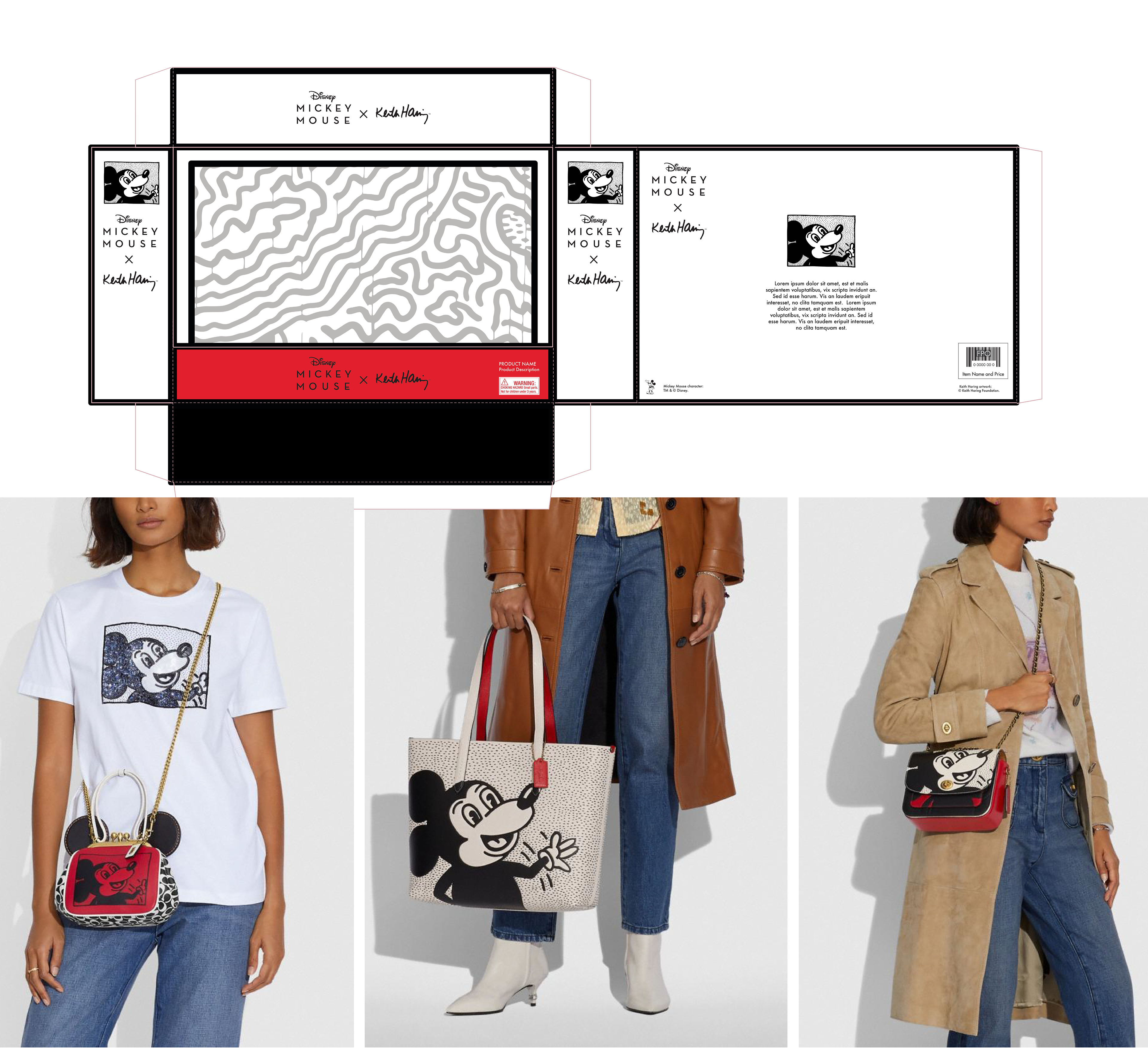 Combining with licensees as trio-branding
Keith Haring is known for his bold strokes and imageries in his art, while Mickey Mouse also shares the sense of boldness with his bright yellow shoes and red shorts. Combining the two iconic duo together, the brand system is driven by Haring's bold patterns and street art style, Mickey's iconic bold colors (red, black, yellow), and a common personality of playful and free-spirited. The Keith Haring x Mickey Mouse collection series will also partner up with different licensing brands and span across apparel, accessories, footwear, jewelry, home, and beauty for adults. Hence, the brand system must be
easily adaptable into different forms of packaging and fit both casual and elevated style of brands.
We started brainstorming with hang tag designs using various Haring's artwork and inspirations from product concepts (see below). We wanted to take advantage of Haring's iconic bold patterns and make them stand out with various special finishes like foil, spot UV, and acetate printing.

After the exploration, the Keith Haring Foundation preferred to go with a minimal design of bold red and black hang tag. To make the box and blister card have more playful personality, we added a pop of black stroke around the box die line and a bold abstract pattern that is derived from one of the Mickey Mouse artwork for the liner. 
Previous concepts with launched products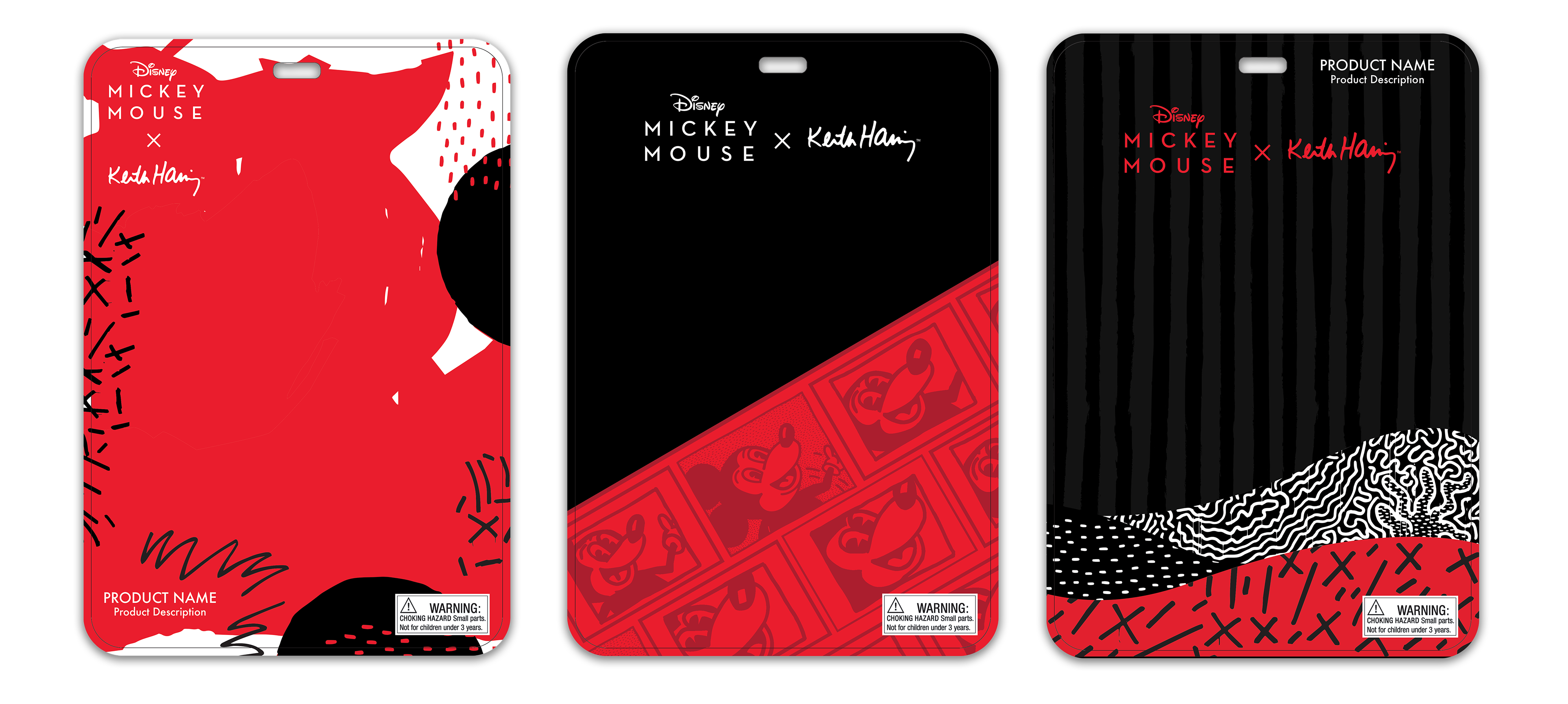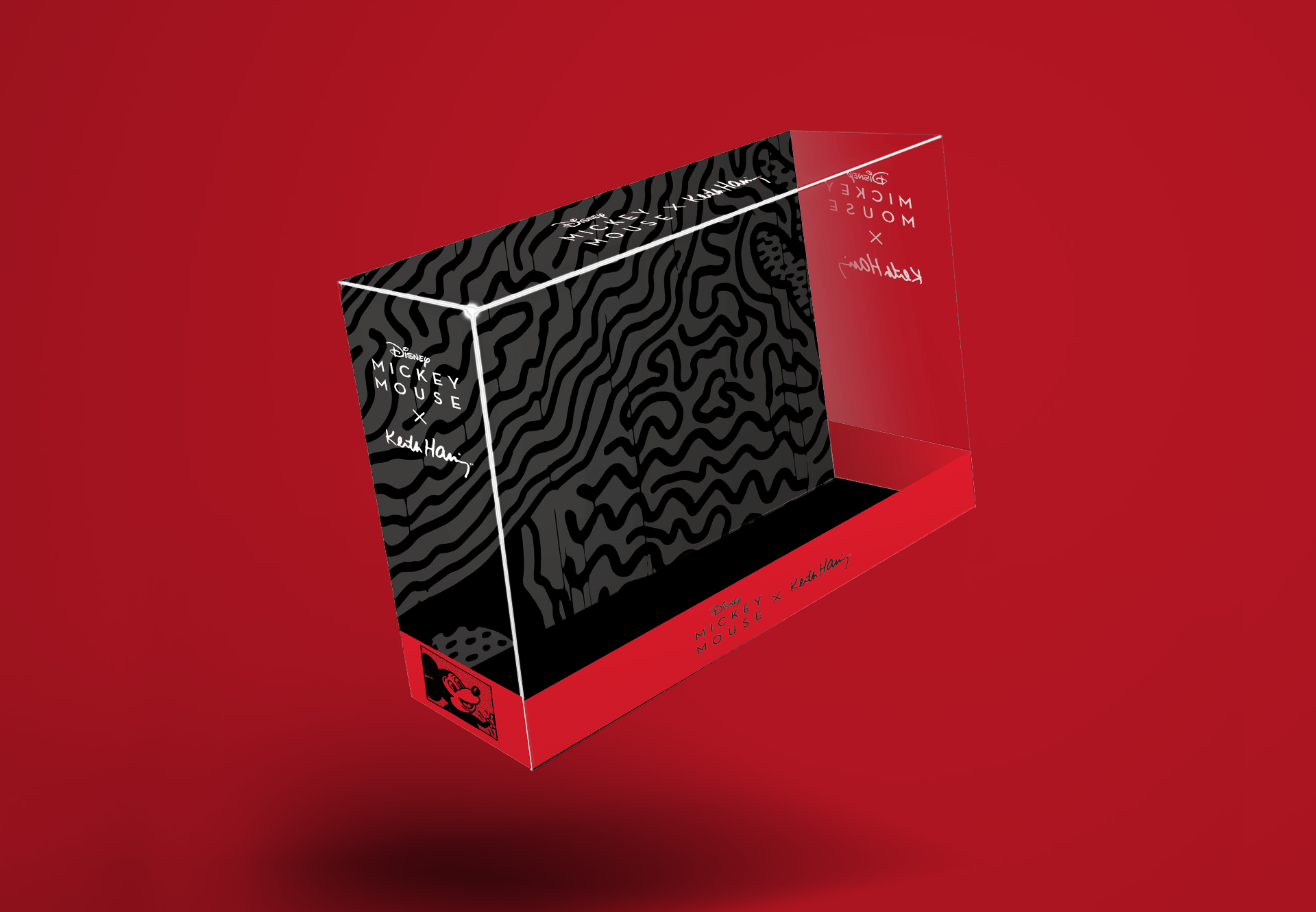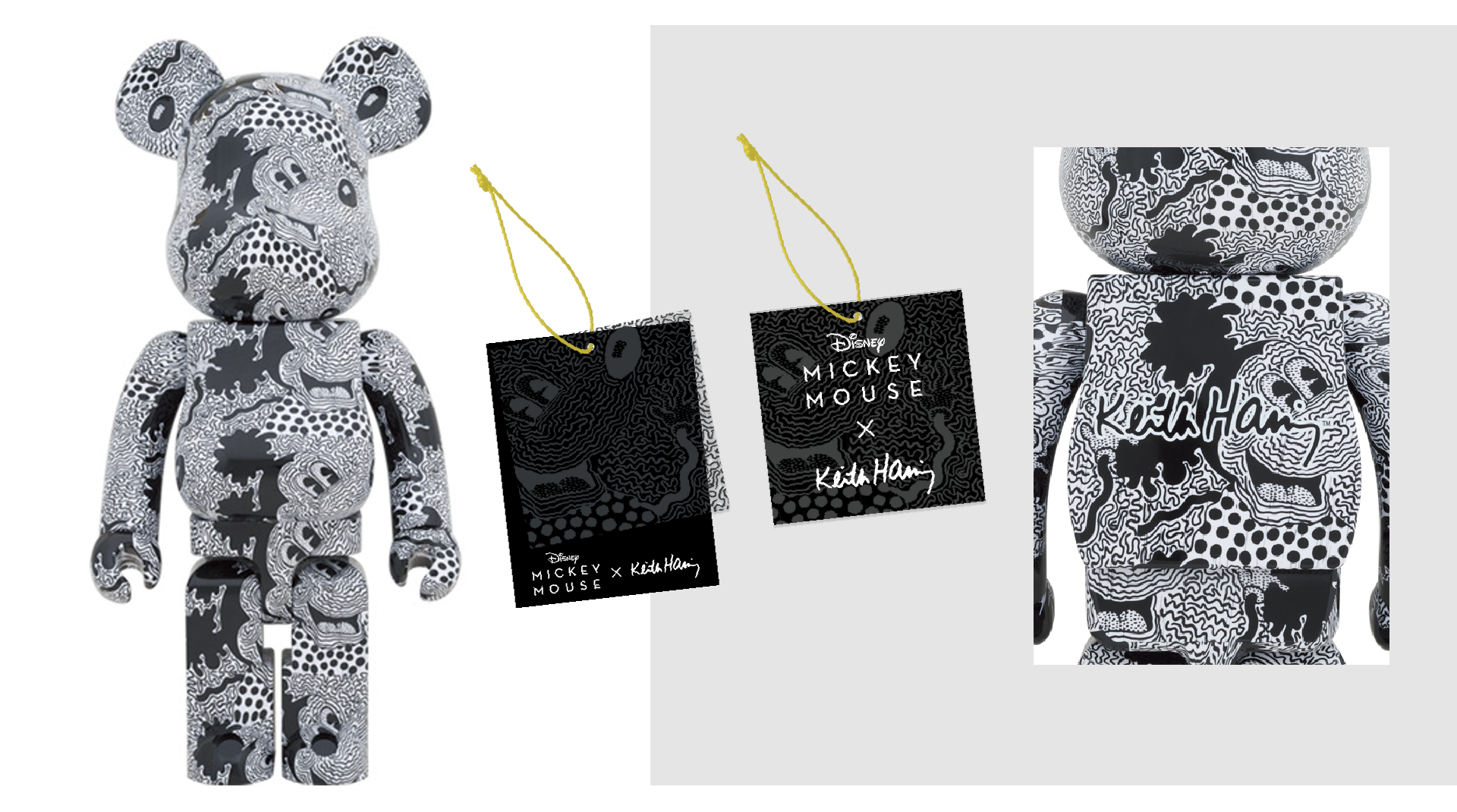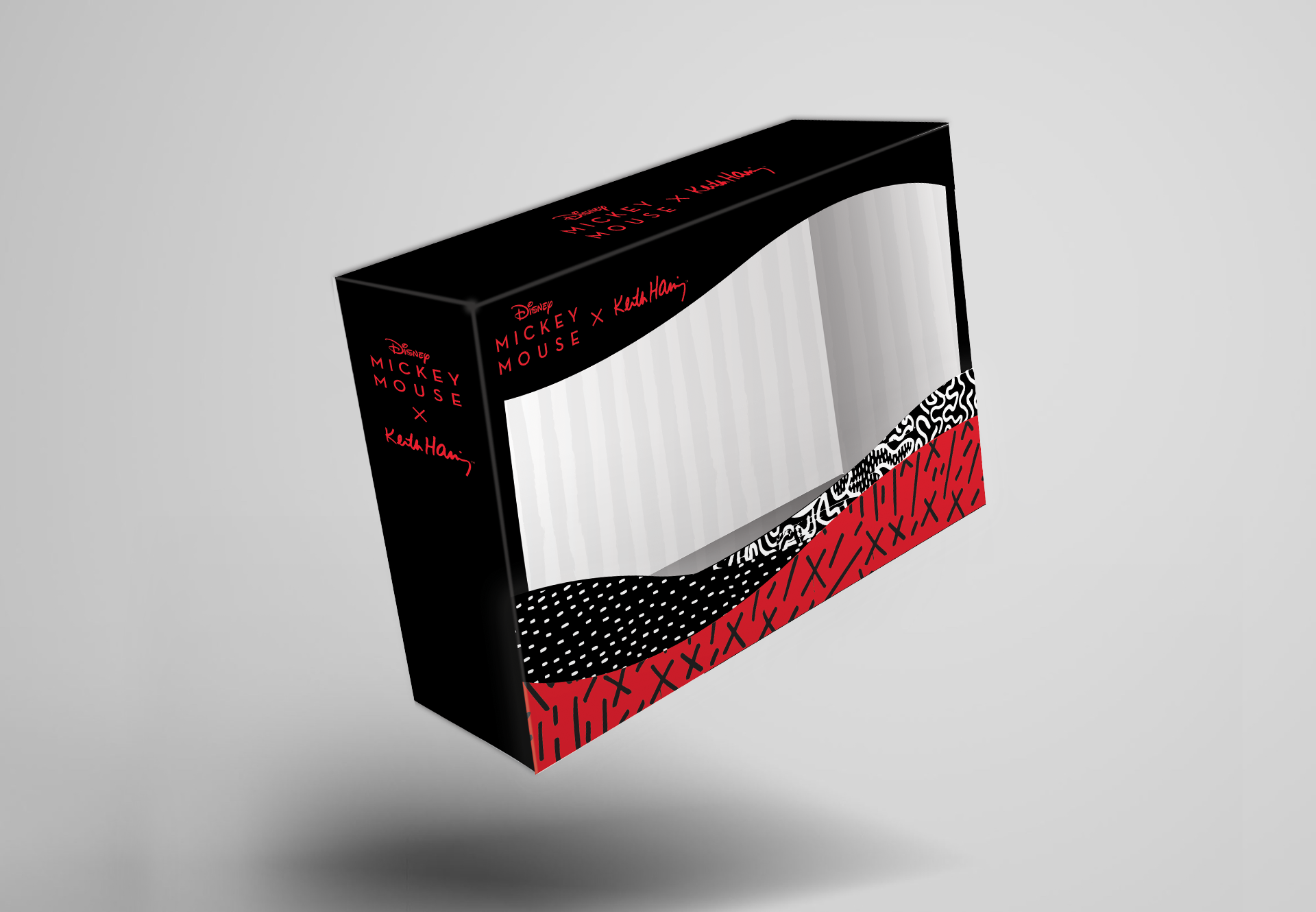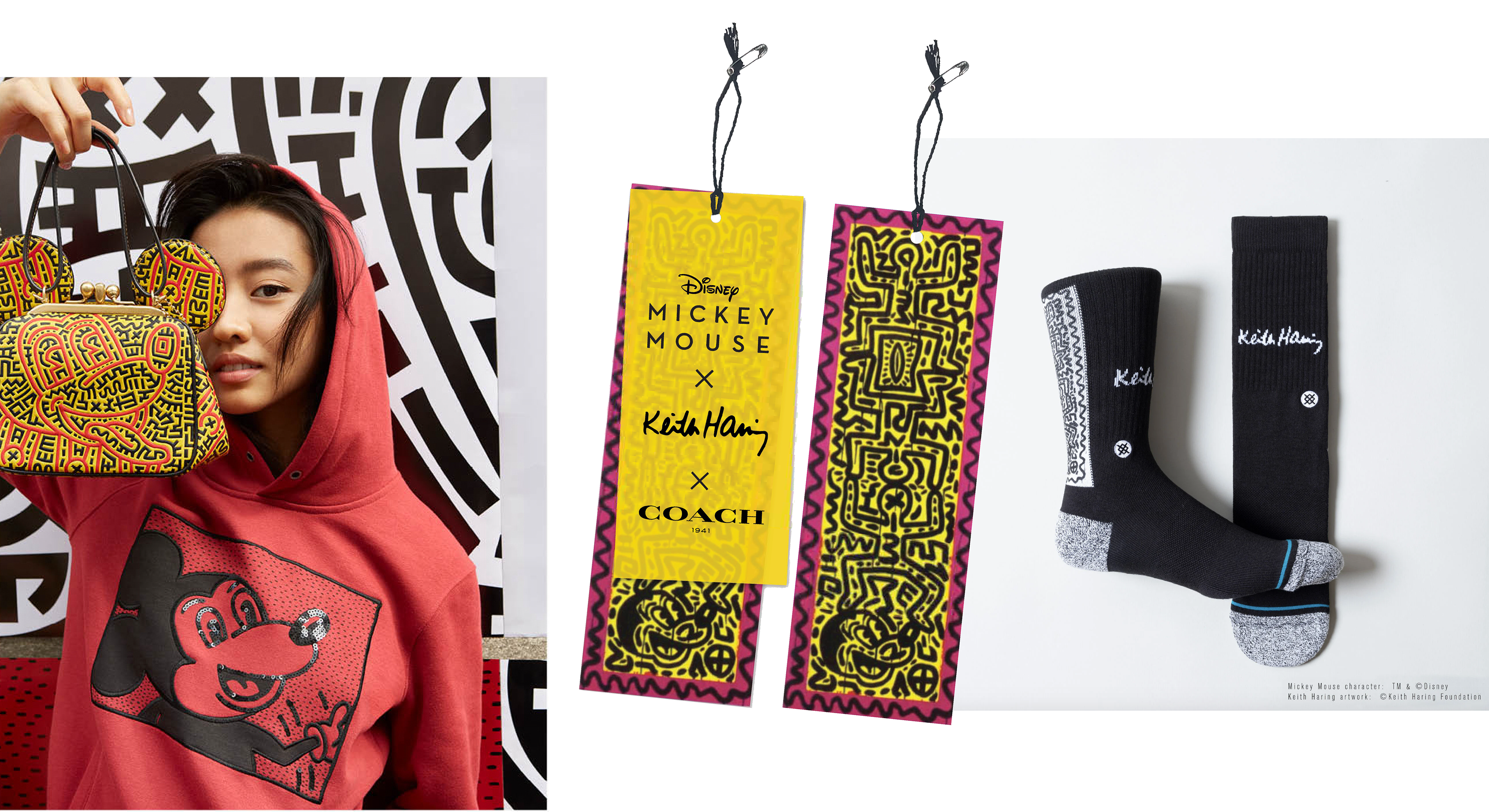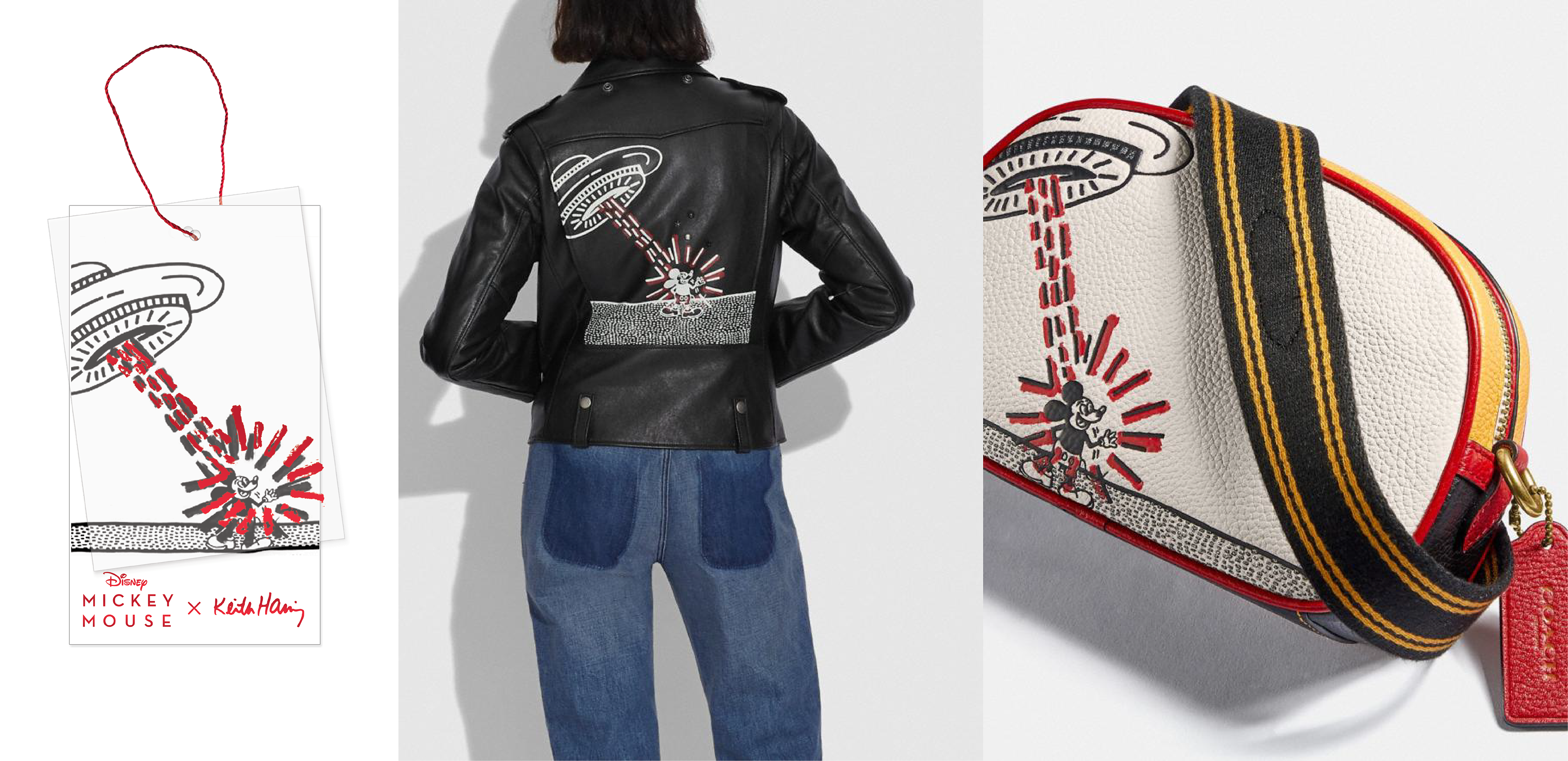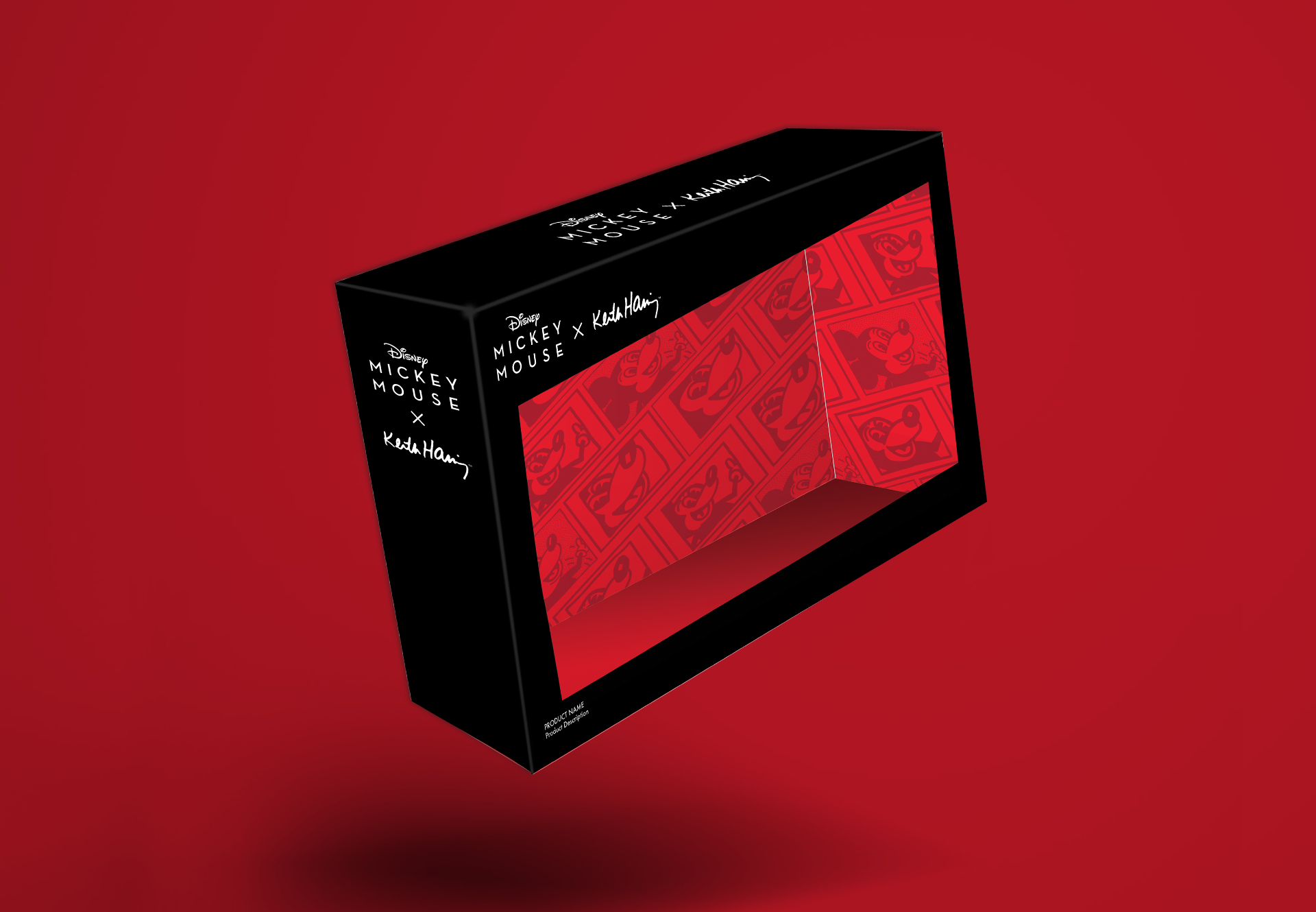 Designing a brand and packaging system for a combination of three brands among a variety of licensees created many challenges to meet both creative and business objectives of this project. This was a great experience to challenge myself to be as creative as possible while facing many licensing legal requirements and stakeholders' opinions throughout the process. 
Being a fan of both Keith Haring and Mickey Mouse, I enjoyed this project as one of my favorite collaboration from Disney Consumer Products team. It was such a great opportunity to celebrate diverse art and personalities of these iconic figures. The series of collection is successfully launched through multiple global licensees that can cater towards a wide range of consumers at different price points from mass to limited exclusives. More licensee collections will be launched in 2021. 
Visit:
Coach
, 
Uniqlo
, 
Stance
,
Maxbone
,
Be@rbrick
,
Swatch
©Disney
©Keith Haring Foundation