Overview & Vision

I co-founded Menti with my friends as a nonprofit initiative dedicated to supporting every youth in developing the knowledge needed to achieve their fullest potential and enjoy their adulting journeys. Our solution is to design an online resource platform that acts as a one-stop learning hub and provides mentorship through easy-to-read articles, blogs, and convenient guides for young adults.  
Latest updates
Career Tasting Experience
,
Industry Insights
,
Goal-Mapping Quiz
, 
Islands Blog
,
Events/Calendar
Brand
Menti
Role
Co-founder, Creative Lead
Project Duration
Nov 2020 - Present
Co-founding Team
Tal Roded, Sandy Lam, Jessica Yang, Tiff Yeh, Angela Tang
Project Type
Brand Identity, UI/UX Design, Content Strategy, Website Architecture, Social Media Marketing
Research phase: survey and personas
Before we dived into our website experience design, we sent out a
research survey
to multiple high schools and college groups to find out what resources and content young adults want to learn the most. After reviewing the survey poll of 100+, we had a clearer understanding of how to define high school seniors to college sophomores personas and their need for personal finance, independent living, and job applying tips and knowledge. Here's a quick overview of the
survey results
: 
Behind the brand exploration
Before we started exploring art directions, we began by asking the right questions to dive deeper into our audience, voice/tone, and brand differentiators.

The final mountain logo concept offers Menti a hopeful tone in helping students get over their hurdles and reach their peak potential as stated in our mission statement. We later incorporated this tone into our brand color names to shape our brand story. The type combination is easy to read for online articles while keeping it professional with a bit of fun personality.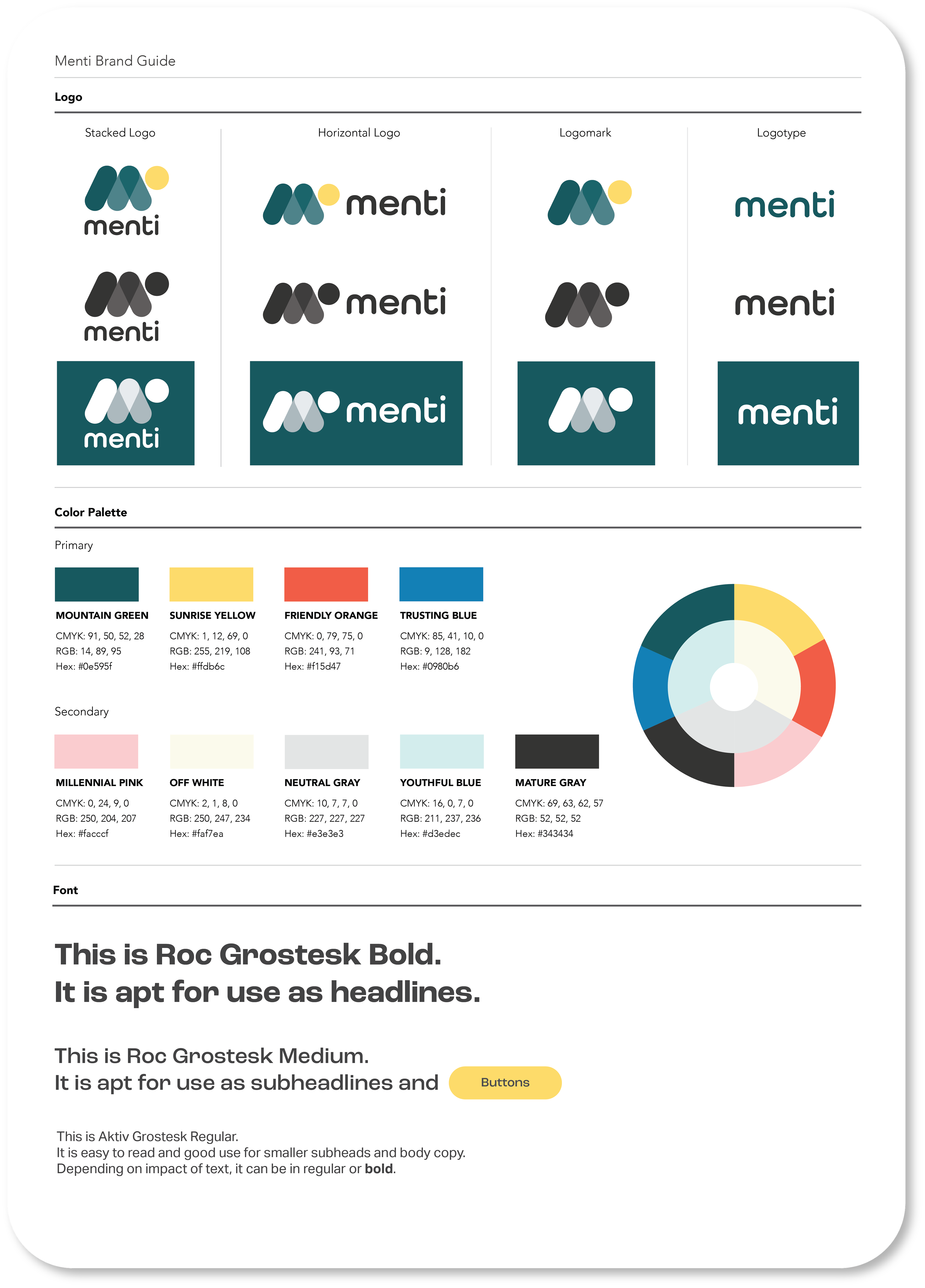 Ideation phase: how can we make the learning experience more fun and enjoyable for young adults?
From studying other learning resource platforms and the feedback from our research survey, we found a couple of pain points in current people's resource-searching experience and we ideated a few solutions:


Problem:
Most young adults or students go to school counselors or family for career and personal development, but find it not extremely helpful or do not know what to ask.
Idea:
Make learning experiences more fun and enjoyable by turning them into "learning worlds" to explore. 
Each learning world (ex. Personal Finance) branches out to different maps (Ex. Credit Cards), which are topics under the main category or world. Each map leads them to a reading path that includes different articles with tips and resources on that particular topic (Ex. Why do Credit Scores Matter?). 
Problem:
Most young adults think it is very hard to seek and understand the information they need when searching online.
Idea:
Prioritize website info architecture and design Menti as a one-stop hub where all resources are organized for specific interests/age groups. 
Problem:
Some young adults do not feel the need or motivation to take action on developing their personal or professional growth. 
Idea:
We aim to create an inclusive and accessible community by engaging with young adults on Discord and hosting discussion events/workshops. We've also built a goal-mapping quiz feature to offer guidance on what one can focus on learning. 
Website launch exploration
Connecting with the brand identity's mission of guiding young adults in their learning journeys, the overall website theme uses visual elements that relate to paths, maps, exploration, navigation, and growth. Here are a few concepts iterations:
Iterations to launch results
After rounds of iterating and feedback, some of our ideation concepts became concrete solutions as part of our website experience. Here are some highlights: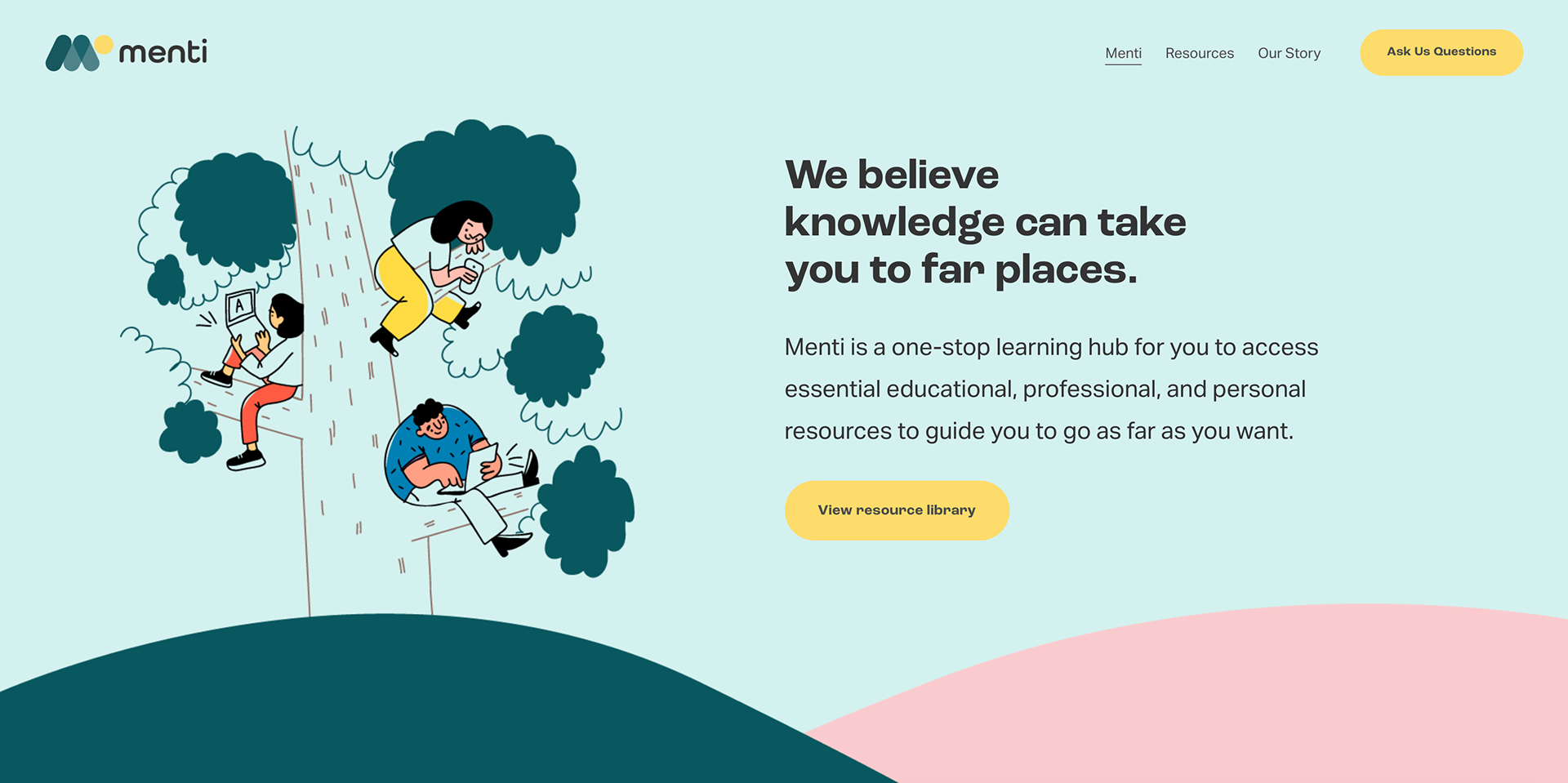 Landing page:
We landed on this landing page as we thought the illustration really connects with our themes of growth and learning. Our overall tone of the website content is to be encouraging and to highlight the message of how knowledge can make a big difference in one's journey and experiences in life. 
How it works:
Following the landing page, we want to guide learners to first understand how our content organization works. This simple content system can help learners find resources faster and prevent them from feeling overwhelmed from looking at all the available resources at once. 
Resource organization:
Learning topics are made into worlds to explore
Resource recommendation:
Letting users know that feeling lost is normal. This section is designed to offer some ideas on where to get started and make them feel more relatable to other young adults. 
Link to About Us/Our Story page:
We want to make sure our audience feel included and involved with our process in building Menti. Throughout the website, we try to add action buttons to encourage users to offer us feedback or simply ask us questions that they have.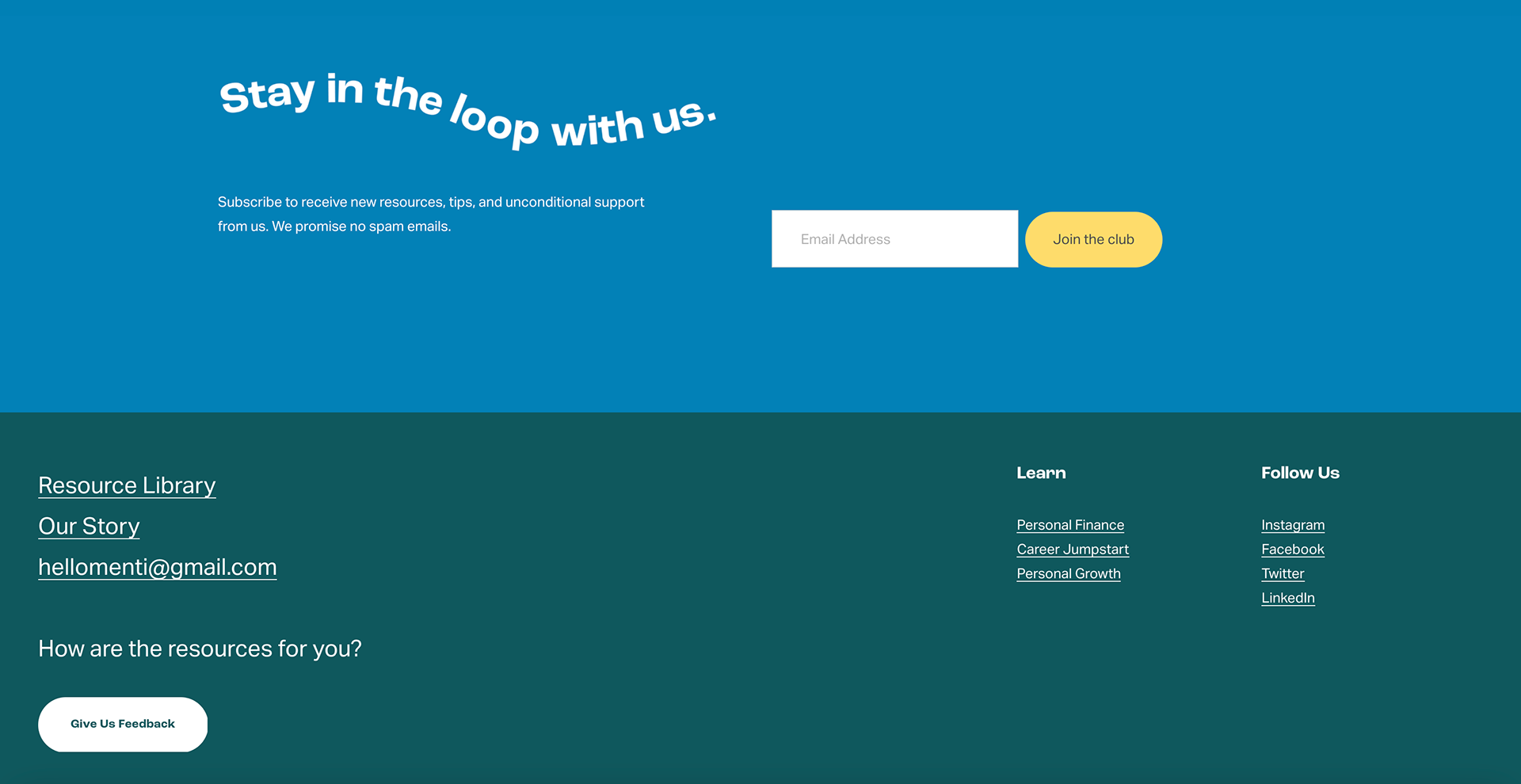 Footer:
We plan to build an audience base through newsletters and social media platforms. 
Maps Tracker PDF:
These handy PDFs below includes hyperlinks to all the readings under each map within each world. Learners can download this PDF on each learning world's page so they can take breaks in between their readings and easily go back to where they stopped with this tracker. 
Designing for yourself can be one of the biggest challenges. Once our team defined our mission statement and vision, I had a better direction for the brand identity. As co-founder, I've learned so much in areas beyond design in order to grow Menti such as outreach, marketing, strategy, and content creation. With user feedback, we continue to improve our website experience by iterating the website architecture and adding new features.
According to our analytics, Menti has reached at least 2.8k unique visits per month and 390+ total followers on social media platforms (IG, FB, LinkedIn). We've also gained 1k TikTok followers and 200+ Discord joiners as our community grows.